A person was killed by a gun-wielding suspect who was then fatally shot by a state trooper at a New Hampshire psychiatric hospital Friday afternoon.
The violence happened at about 3:30 p.m. at the New Hampshire Hospital, a state-run facility in Concord, New Hampshire State Police Col. Mark Hall said Friday night during a news conference.
State police troopers were dispatched to the hospital on a call of an active shooter, Hall said. The suspect entered the lobby and shot someone. A state trooper who was on scene responded and shot the suspect, Hall said.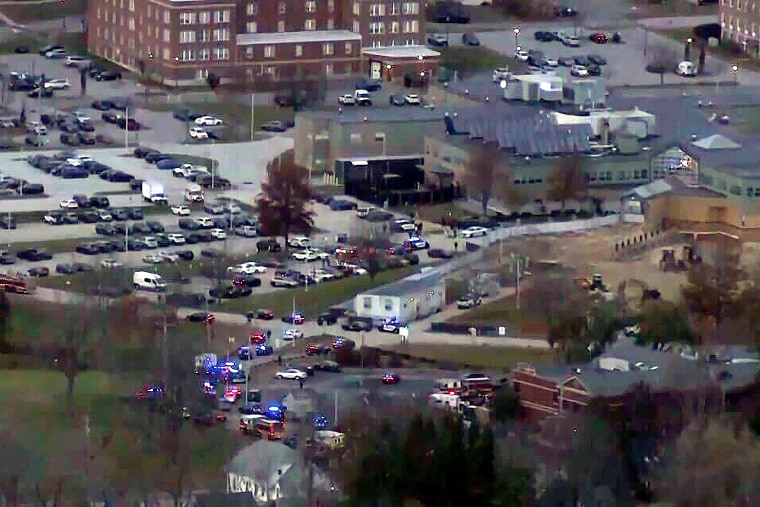 Authorities outside a New Hampshire psychiatric hospital investigate a shooting, in Concord, N.H., on FridayWMUR via AP
"A state trooper assigned to the hospital and in close proximity, immediately engaged, shot and killed the suspect," Hall said. "The entire incident was contained within the lobby of the hospital."
A suspicious vehicle on the hospital's campus was also being investigated by a state police bomb squad, Hall said.
The identity of the victim was not released.
Authorities are working to identify the suspect, Hall said. No other information about the circumstances of the shooting was immediately released.
Lori Weaver, commissioner of the state's Department of Health and Human Services, which oversees the hospital, said teams were providing support for patients and staff. The hospital is described on its website as the state's premier acute psychiatric hospital, which provides inpatient services.
On Friday night, the hospital was closed to visitors but remained open for patients.
"Our hearts go out to the family of the victim as well as our colleagues who have been impacted," Weaver said. "This is a difficult and unimaginable day for employees and for our community. We will continue to make resources available in the coming hours and days."