WASHINGTON — A Donald Trump enthusiast who bear-sprayed officers at the U.S. Capitol on Jan. 6 was sentenced to three years in prison following a lengthy hearing Monday.
Edward Rodriguez was identified by online "Sedition Hunters" who have aided in the arrests of hundreds of Capitol rioters. The sleuths called him "#SuitMacer," because he was wearing a suit as he assaulted law enforcement with what turned out to be bear spray. He was arrested in 2021 and pleaded guilty in March.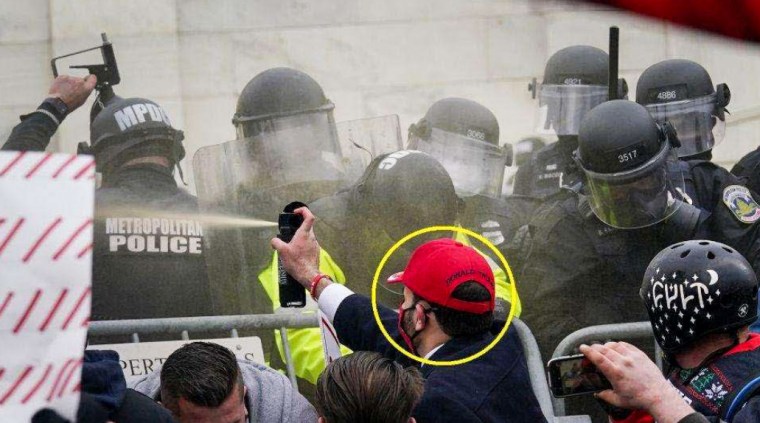 Edward Francisco Rodriguez uses bear spray against police officers outside the Capitol on Jan. 6, 2021.Department of Justice
Prosecutors sought more than seven years in federal prison for Rodriguez, who was a 28-year-old real estate agent from Brooklyn, New York, when he attacked officers Jan. 6. The government identified at least eight officers — Sergeant O.A., Officer M.B., Officer N.D., Officer P.N., Officer B.R., former Officer J.R., Sergeant A.W., and Officer A.Z. — who were injured by Rodriguez's spray attack. (The Justice Department has frequently identified victims in Jan. 6 cases by their initials).
Judge Dabney L. Friedrich handed down the sentence, less than half of what prosecutors had sought, citing Rodriguez's mental health needs.
Freidrich said it was "truly one of the hardest January 6th sentencings I've had" and alluded to some of the material that was disclosed only in a sealed proceeding. She said that Rodriguez needed "continued mental health treatment" but that a period of incarceration was necessary for general deterrence.
Rodriguez, the judge said, was "easily manipulated" and believed it was his duty to come to the capital on Jan. 6 and that the dozens of form email messages he received from the Trump campaign and its affiliates about Jan. 6 were personal invitations rather than mass mailings.
Rodriguez apologized before the sentence was imposed.
"I deeply regret my actions on January 6th," he said, adding he now realized that officers were pepper-spraying because of how "crazy and chaotic the crowd had gotten."
Rodriguez said he was not in a good place at the time of the attack on the Capitol and that he was "spending too much time reading crazy stuff online" and became "disconnected from reality."
He said he was "embarrassed" and "deeply regretful" about his actions, a stark contrast to his remarks on Jan. 6.
"I was there, and I just want to let you know that we in America, we fight back!" Rodriguez said in one of the on-camera interviews he gave that day.
According to prosecutors, Rodriguez typed "What does bear spray do to humans?" into Google after the incident.
Rodriguez, who wore a suit that appeared to be made of satin to court Monday, was in a "state of mania" when he assaulted law enforcement officers that day, said his attorney, Nora Hirozawa, of the federal public defenders' office in New York.
Friedrich sealed the courtroom for part of the proceedings to discuss Rodriguez's mental health and what Hirozawa described as his "diminished capacity." Hirozawa said before the court was sealed that she did not think that the mental health treatment available from the federal Bureau of Prisons was adequate.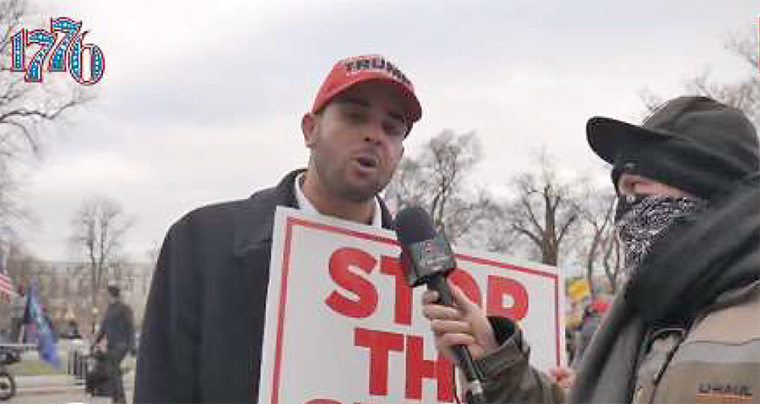 Footage of Edward Francisco Rodriguez at the Capitol on Jan. 6, 2021.U.S. Attorney's Office for the District of Columbia
Officer Marina Bronstein was one of several of the officers sprayed by Rodriguez who appeared in court Monday. Bronstein, who was identified in court by prosecutors, wrote in a signed statement that she "will never forget how we fought to save the Capitol and the lives of those elected to serve our country" and that she still lives with the scars of that day.
"I remember the minute I went to hold a bike rack and was sprayed with bear spray while being yelled at by Trump supporters. I continued to get sprayed, yelled at, punched and shoved, and it continued for several minutes," she wrote. "When I couldn't see anymore, I went to get decontaminated. I went back to the bike rack line and continued to get sprayed as I fought back multiple Trump supporters."
Bronstein said she suffered a concussion, a back injury, a deviated septum, a broken tooth and multiple bruises on Jan. 6. "My eyes continued to burn for about a week. I went to the doctors for my eyes and my back. I continue to go the chiropractor for my back," she wrote. "I have migraines all the time and they can last for days or for weeks. I have nightmares and PTSD from this traumatic event. These injuries that I have from this horrific event have not stopped me from doing my duties as an officer."
Before the courtroom was sealed, Rodriguez communicated that he wanted to apologize to the officers. Only one officer, Bronstein, took him up on it. "I'm very sorry for what I did," Rodriguez said in an almost empty courtroom. Bronstein replied that she had nightmares and post-traumatic stress disorder from what happened to her during the attack.
"I don't forget," Bronstein said. "I do forgive you, but it doesn't change what happened."