Aurora police officer Nathan Woodyard was acquitted by a Colorado jury Monday in the 2019 killing of Elijah McClain, a 23-year-old Black man who died after he was put in a chokehold and given a powerful sedative.
The verdict came weeks after a second officer, Randy Roedema, was convicted of criminally negligent homicide and third-degree assault.
Another former Aurora officer, Jason Rosenblatt, was acquitted of reckless manslaughter, criminally negligent homicide and assault in McClain's death.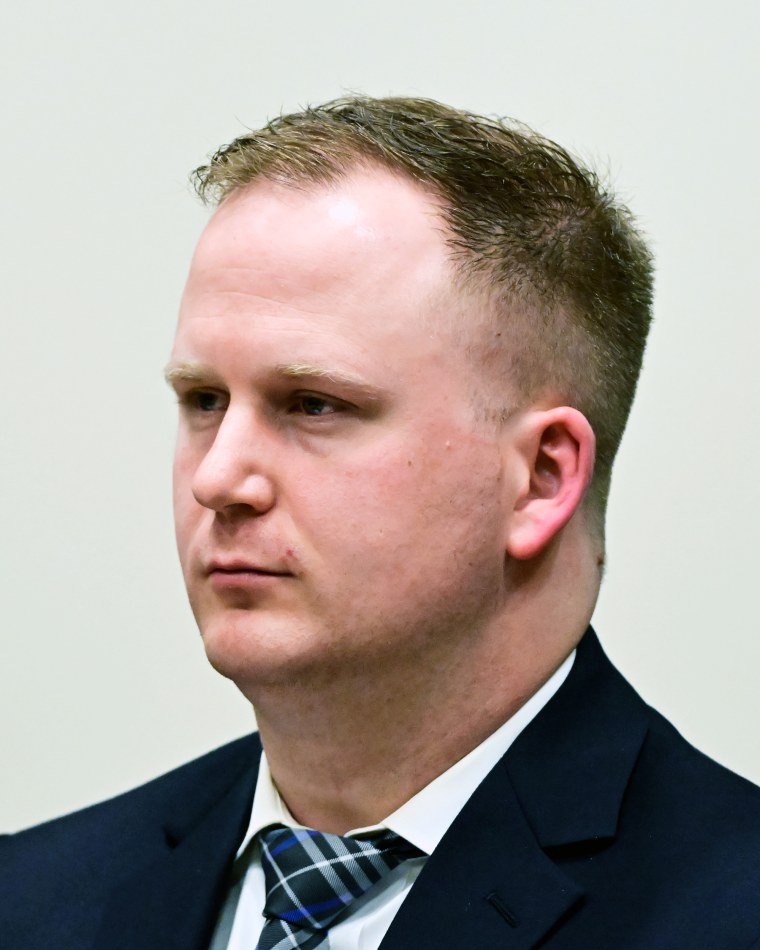 Aurora Police officer Nathan Woodyard during an arraignment in the Adams County district court 2023.Andy Cross / Denver Post via Getty Images file
In a statement after the verdict, Aurora Police Chief Art Acevedo said that he knew many people had been waiting for Monday's decision.
"As a nation, we must be committed to the rule of law," he said. "As such, we hold the American judicial process in high regard. We respect the verdict handed down by the jury, and thank the members of the jury for their thoughtful deliberation and service."
After the verdict was read, Attorney General Phil Weiser acknowledged the cases against "those whose actions led to the death of Elijah McClain" were going to be difficult to prosecute, but said he respected the outcome. He vowed to continue seeking justice and accountability for McClain and his loved ones. 
"I'm thinking of Sheneen McClain, who has fought hard to keep her son's memory alive. No mother should go through what she has," Weiser said.
Sheneen McClain said she no longer has faith in the justice system.
"My son was murdered by killer cops and their accomplices," she said after court. "And the system, the justice system, allows them to continue with their crimes."
Woodyard was the first officer to confront McClain as he walked home from a convenience store in the Denver suburb of Aurora. A 17-year-old 911 caller had reported McClain — who was listening to music, wearing a mask and dancing as he walked — as suspicious.
Prosecutors say Woodyard grabbed McClain within eight seconds of getting out of his patrol car without introducing himself or explaining why he wanted to talk to McClain. McClain, seemingly caught off guard, tried to keep walking.
At every turn, Colorado Assistant Attorney General Jason Slothouber told jurors Woodyard chose to escalate the situation, not listening to what McClain was saying and ignoring the police department's policy on de-escalation.
"Elijah McClain was walking home, he was dancing. As he told the defendant he was stopping the music to listen," Slothouber said. "There was no need for this escalation of violence."
Woodyard put McClain in a neck hold that rendered him temporarily unconscious after he said he believed McClain had reached for one of the officers' guns — a claim prosecutors disputed. McClain was later injected with a fatal overdose of ketamine by paramedics.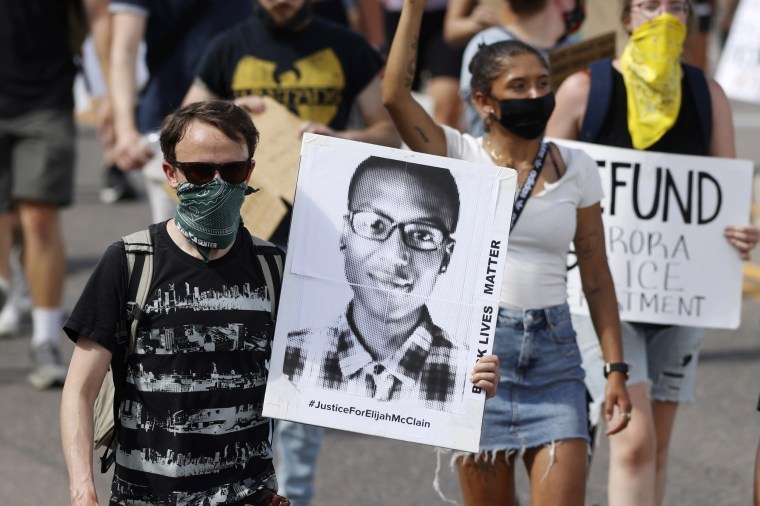 A demonstrator carries an image of Elijah McClain during a rally in Aurora, Colo. on June 27, 2020.David Zalubowski / AP file
The defendant's lawyers stressed through the weekslong trial that the officer walked away during part of the nighttime confrontation after initially being called away by his supervisor. They said he was not with McClain as his condition worsened and other officers continued to restrain him. Defense attorney Andrew Ho said Woodyard entrusted McClain's care to his fellow officer and the paramedics who used the ketamine.
"We need to end in-custody deaths. There's been too much violence and the world will be a better place when that happens. These important facts don't conflict with the fact that Nathan Woodyard did not kill Elijah McClain," Ho said. "It's the ketamine that killed Elijah McClain."