The Palestinian American woman whose 6-year-old son was fatally stabbed in what authorities have described as a hate crime in a Chicago suburb said she harbors no hatred, but believes in the pursuit of justice.
The statement, issued through the Chicago chapter of the Council on American-Islamic Relations, was Hanaan Shahin's first public comments since she was stabbed more than a dozen times and her son, Wadea Al-Fayoume, was stabbed 26 times on Oct. 14 in an attack investigators have said was carried out by their landlord.
Authorities have tied the stabbings to the violence in Israel and Gaza. Investigators said Joseph Czuba, 71, singled out the mother and son at their home in Plainfield Township because of their faith.
Ahmed Rehab, the CAIR chapter's executive director, said Tuesday that he met with Shahin for a couple of hours on Monday.
"We spent most of our time together listening to her recounting stories of how smart and funny her boy was, and how he cared for the planet and always liked to join her in prayer," he said in a statement, adding that she said: "He was my best friend."
He said he asked her whether she had a direct public statement she wanted him to convey, and, "she only had this to say, with sad eyes that betrayed that polite, weary smile that hardly parted her stitched face: 'Just pray for peace.'"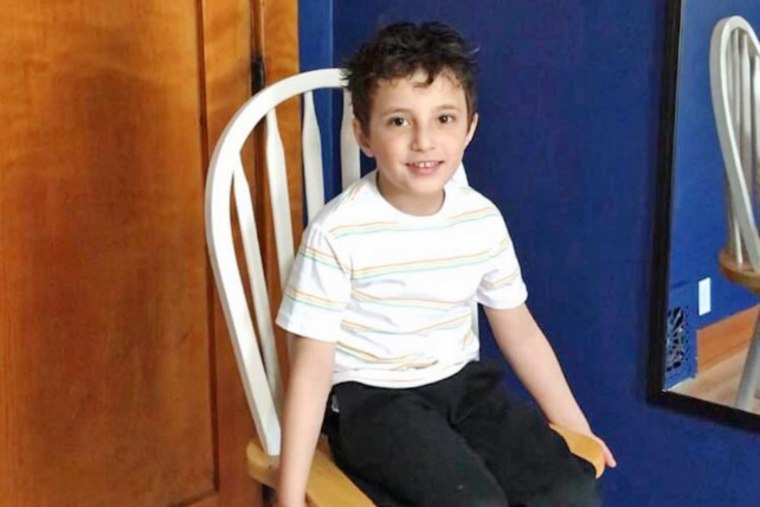 6-year-old Wadea Al-Fayoume.Courtesy of Hela Yousef
Rehab said that Shahin is recuperating — "fully functional but tired" — and that her "doctors were stunned by the speed of her recovery despite the brutality of the attack." He said Shahin credits that to "God hearing the prayers of people out there."
Rehab said he was astonished by the mental strength and composure of Shahin, who worked as a caregiver to seniors.
"She exudes a giving personality and a calm demeanor," he said. "In the hospital while delirious, she was asking doctors to check on the elderly landlord's wife."
Shahin thanked her doctors, nurses, the Will County Sheriff's Office, the Muslim community, the media and the general public for their care and support.
"Despite the painful loss and the trauma she experienced that morning, her spirit is strong and she is finding peace and answers in her faith in God," Rehab said in the statement. "She said that she accepts that God chose them for this test — and that she finds solace in 'remembering Wadea as an angel on earth, and knowing that he is now an angel in heaven.'"
Czuba is alleged to have stabbed the mother and son repeatedly with a serrated knife that had a seven-inch blade. The sheriff's office said Shahin ran into a bathroom and fought off her attacker as she dialed 911. Wadea was pronounced dead at a hospital.
Plainfield Township is about 40 miles southwest of Chicago. The sheriff's office arrested and charged Czuba. His wife told investigators that he had become obsessed with the war between Hamas and Israel, authorities said.
A close friend of the family previously told NBC News that Czuba had treated Wadea as a grandson, buying him a swing, a trampoline, toys and gifts.
Czuba was charged with first-degree murder, attempted first-degree murder, two counts of hate crimes and aggravated battery with a deadly weapon, according to the sheriff's office.