MERSIN PROVINCE, Turkey — Rescuers say they are ready to begin the process of freeing an ill American caver stuck over 3,000 feet underground within the next few days.
"With this good news, with doctors saying you can take him out now, slowly, tomorrow or the next day at the latest, we will start his rescue," said Recep Şalcı, head of search and rescue for Turkey's Disaster and Emergency Management Authority.
Mark Dickey is over 3,000 feet down in the Morca cave, which is the third-deepest cave in the country, officials said.
Dickey was on an international trip to map it when he suffered gastrointestinal bleeding Saturday and was unable to return on his own. He is recovering, he said in a video dated Wednesday.
The cave is in the Taurus Mountains in the southern part of Turkey. It has narrow passages and several areas requiring a rappel, according to the Turkish Caving Federation, which is assisting in the effort.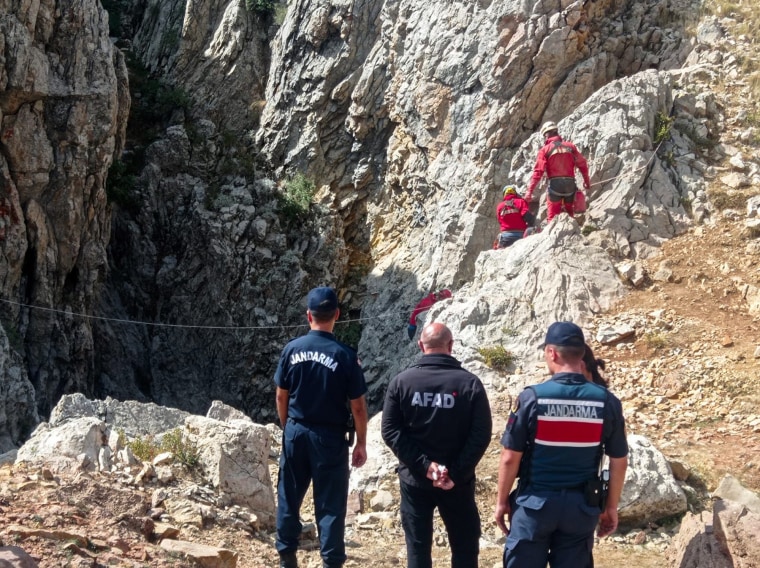 Turkey's Disaster and Emergency Management Authority, or AFAD, plans to use a helicopter to fly him back and will have health teams waiting, Şalcı said.
Dickey had been bleeding and vomiting, but he no longer is, said Dr. Tulga Şener, medical coordinator at the rescue commission of Turkey's caving federation.
Dickey was given units of blood, and there are more units at the camp where he is, "but it seems there is no need now," Şener said. There is also a doctor and paramedic with Dickey in the cave, he said.
As part of the effort to get remove Dickey, a couple of medical encampments are inside the cave, Şener said.
Dickey said in the video dated Wednesday that he's "doing well." He thanked the cavers who are assisting and the Turkish government.
"I look forward to working with everyone to safely get myself out with their assistance," he said. "As you can see, I'm up, I'm alert, I'm talking, but I'm not healed on the inside yet, so I'm going to need a lot of help to get out of here."
There were 116 rescuers on the site Thursday, Şalcı of AFAD said, and 28 were working inside the cave.
The Morca cave is over 4,100 feet deep.
Officials at U.S. European Command in Germany told NBC News on Friday that they were "tracking the incident, are in communication with the U.S. Embassy in Türkiye regarding the situation," but added that at this time, the U.S. Department of Defense "has not received an official request for support to the rescue effort." 
Aziz Akyavas reported from Mersin Province and Phil Helsel from Los Angeles.