WASHINGTON — As Sen. Tommy Tuberville, R-Ala., keeps hundreds of military promotions in limbo for a sixth straight month, his Republican colleagues are trying to deflect criticism by pointing the finger at a familiar GOP foe: Senate Majority Leader Chuck Schumer.
"I think the majority leader should take the chairman of the Joint Chiefs of Staff nomination to the floor as we do our top Cabinet officials," Sen. Roger Wicker of Mississippi, the top Republican on the Armed Services Committee, said in an interview.
Sen. John Cornyn, R-Texas, likewise said that "this is entirely within Sen. Schumer's control."
"He filed five cloture petitions, I think, on nominations this week. He could do that on these military nominations, and it would break the logjam and, I think, begin to get us to a solution," Cornyn said. 
Cornyn and his fellow Republicans are referring to a procedure that would allow the Senate to consider the nominees, albeit in a delayed fashion. Tuberville's hold applies only to quickly approving military promotions, which the Senate normally approves without delay in large batches because all 100 senators agree, whereas his fellow Republicans now say the chamber should consider the promotions one by one.
Schumer, D-N.Y., deflected this week when he was asked whether he would bring Air Force Gen. CQ Brown Jr.'s nomination to be chairman of the Joint Chiefs up for a standalone vote, before Tuberville lifts his hold on all nominees, particularly because the current chairman, Gen. Mark Milley, is scheduled to leave by the end of the month.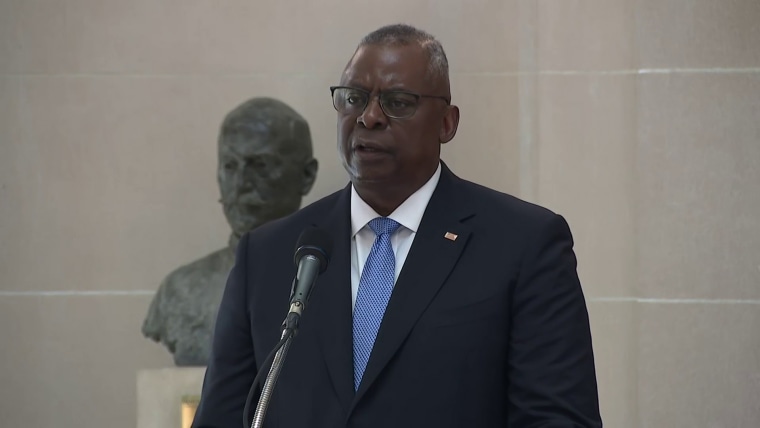 Austin criticizes Sen. Tuberville's 'unprecedented' blockade of military promotions
"The bottom line is this is a problem created by Republicans, and it's up to them to solve," Schumer told reporters, "Sen. McConnell, Sen. Thune have said they disagree with Tuberville. It's now up to the Republican Party to get him in line. We're not going to shift the burden to Democrats when this is a Republican-caused problem."
Mitch McConnell, R-Ky., is the Senate minority leader. John Thune, R-S.D., is the minority whip.
Many Senate Democrats agree, seeing the prospects of approving promotions as an all-or-nothing proposition.
"Bringing up one or three or five does not solve the problem," said Sen. Elizabeth Warren, D-Mass. "Sen. Tuberville has created a problem that pervades our entire military, and trying to glue one hole closed does not fix that problem."
In blocking the military appointments, Tuberville has cited his objection to a Defense Department policy that provides paid time off and reimburses travel costs for service members and dependents seeking abortions.
As he digs in on his tactic, the number of promotions that have not been approved by the Senate only grows. Armed Services Committee Chairman Jack Reed, D-R.I., said that "650 of them will need to pass through the Senate for promotion or [be] reassigned by the end of this year."
The growing number of promotions and vacancies in the top ranks of the military is increasing pressure for some kind of action.
"I think for the sake of our nation, we're going to have to eventually," Sen. Joe Manchin, D-W.Va., said of approving the highest-ranking promotions one by one. "But also I think that Sen. Tuberville needs to be heard, and I'm all for getting votes and doing whatever he would want to do on this floor, like any of us."
Sen. Josh Hawley, R-Mo., said the Senate needs to vote on the promotions, but he did not specify how.
"I do think we're going to have to start voting here sometime soon," Hawley said. "Because I just don't see the dam breaking on this any other way. So, I mean, I would say let's, let's start voting."
Tuberville has said a simple vote to undo the Pentagon's abortion policy would not be enough for him to release his holds, saying instead that he wants the Defense Department to undo the policy and have the Senate subsequently vote to reinstate it. Both those votes would be likely to fail in the Senate, where legislation of that kind requires 60 votes to pass.
The impasse has left Republicans searching for a solution, with Sen. Mitt Romney of Utah floating a middle ground whereby the Pentagon would say it would stop paying for travel for abortion services for those beyond 16 weeks of gestation.
"I'd look for some kind of compromise," Romney said. "The idea that one side or the other is going to give, that's not how Washington works. There has to be something towards the middle."
But Tuberville, who says he has not had additional conversations with Defense Secretary Lloyd Austin since their call in July, was dismissive of that potential compromise, saying he would "probably not" support it.
"I'm willing to talk, but seems like there's nobody who wants to have [a] conversation," Tuberville said. "It's their way [or] the highway."