President Joe Biden on Thursday said he would travel to Florida this weekend to survey the damage from Hurricane Idalia, days after it caused major flooding and power outages before weakening into a tropical storm.
Biden announced the trip during a visit to the Federal Emergency Management Agency's headquarters, where he met with Department of Homeland Security Secretary Alejandro Mayorkas and Anne Bink, associate administrator of FEMA's Office of Response and Recovery.
"I am going to Florida, Saturday morning," the president told reporters.
Earlier on Thursday, Biden approved a major disaster declaration for Florida and ordered federal aid to supplement recovery efforts in affected areas.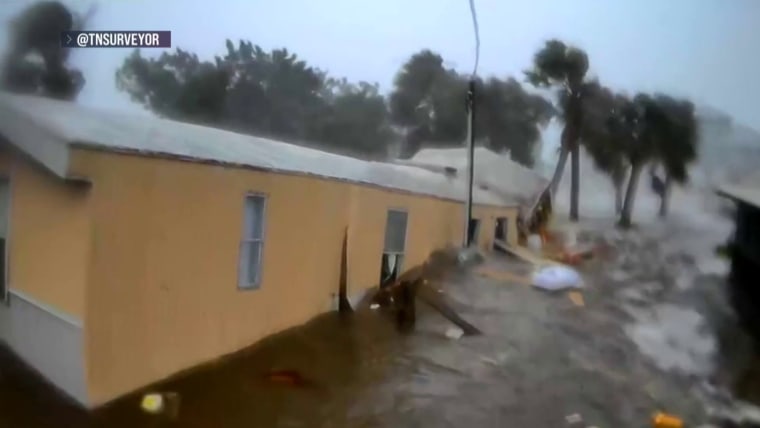 Florida communities surveying damage from Idalia
Idalia made landfall in Florida's Big Bend near Keaton Beach on Wednesday morning as a Category 3 hurricane. Heavy rain and fierce wind gusts topping 125 mph, toppled trees and quickly flooded streets, submerging buildings and leaving hundreds of thousands without power on Wednesday night. Roughly 180,000 customers were without power in Florida, Georgia and South Carolina as of Thursday afternoon, according to poweroutage.us.
On Wednesday, Biden directed FEMA Administrator Deanne Criswell to fly to Florida and meet with Gov. Ron DeSantis to help with response efforts. Criswell said at a news conference that they would "do assessments and see firsthand" the storm's impact.
Biden said he spoke with DeSantis on Thursday. He also talked with governors in nearby Georgia, South Carolina, and North Carolina.
During a storm briefing Thursday morning, DeSantis, who is running for the GOP presidential nomination, said that 40 rescues were reported last night.
The president's trip to Florida comes after his visit last week to Maui, Hawaii, to meet with residents who were affected by deadly wildfires this month.
Before Biden's Maui visit, Republicans had criticized him for going days without talking about the devastating wildfires. He defended the timing of his trip to Hawaii, saying that he hadn't wanted "to get in the way" of the initial response efforts.
Biden visited FEMA's headquarters Thursday to thank workers staffing the agency's National Response Coordination Center, which monitors developing incidents and activates emergency response teams.
The president organized for pizza to be delivered to staff who have been coordinating ongoing efforts to the hurricane and wildfires "around the clock," the White House said.