WAILEA, Hawaii — Gov. Josh Green said Friday that displaced residents whose homes had burned to the ground in the Maui wildfires would be able to extend their temporary hotel stays for the foreseeable future.
After three wildfires destroyed scores of homes and the historic town of Lahaina on Aug. 8, many residents were allowed to stay temporarily in government-subsidized hotels and Airbnbs while they searched for alternative housing and tried to get their personal affairs in order.
But Green said in an exclusive interview with NBC News that the displaced residents could extend their stays month by month as long as they registered with the Red Cross. He said state, federal and local officials were working to establish more permanent housing on other parts of the island.
"This is a very long process, but we can assure housing for the long haul," he said. "And we're also going to open up Airbnb and other housing across the state of Hawaii and in other counties in case people end up relocating temporarily to those places."
The assurance comes after many residents staying in hotels and short-term rentals expressed frustration that officials had not informed them about how long their temporary housing would be available or where they might go next.
Mike Townsend, 40, a resort hotel worker living in a government-subsidized hotel room, was grateful for the new clarity but said he was still concerned about the future.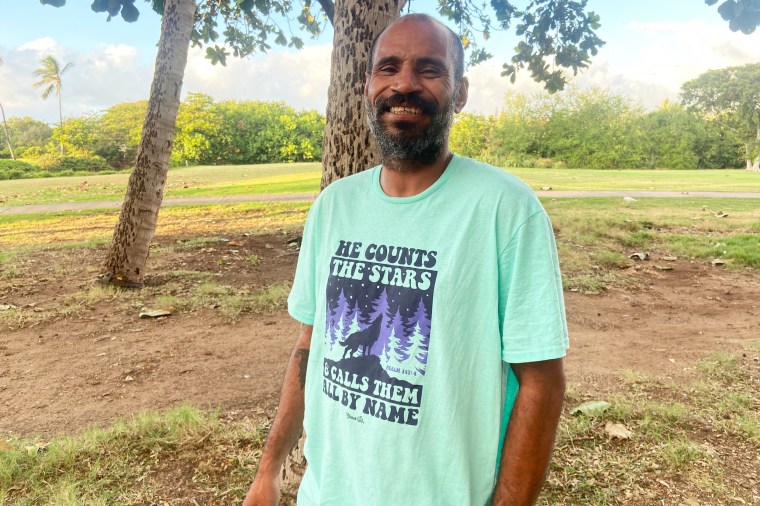 Mike Townsend, 40, who was sharing a house with his mother that was later condemned, has been staying in a hotel for the past two weeks. He said he's not sure what his plan will be moving forward.Deon J. Hampton / NBC News
"I'm just existing. I ain't never been in nothing like this," said Townsend, who moved to Hawaii from Nevada more than a year ago to live with his mother.
With their house condemned and deemed too unsafe to live in, he said he didn't know how he would eventually find permanent housing. 
Green said he anticipated that residents would be able to stay in their hotels and Airbnbs for at least 36 weeks, and the subsidies might be extended another 12 to 18 months. 
"We don't want people to think they're going to get housed and suddenly be asked to leave," he said. "It will be in 30-day increments, which will be constantly updated. So people will get housed." 
Those steps may not be enough to keep bartender Sonja Aursland, 47, in Maui.
While she initially feared she would be forced out of her hotel after the new apartment she was renting burned down, she said she's now seriously considering starting a new life on the mainland because "rebuilding efforts may take too long."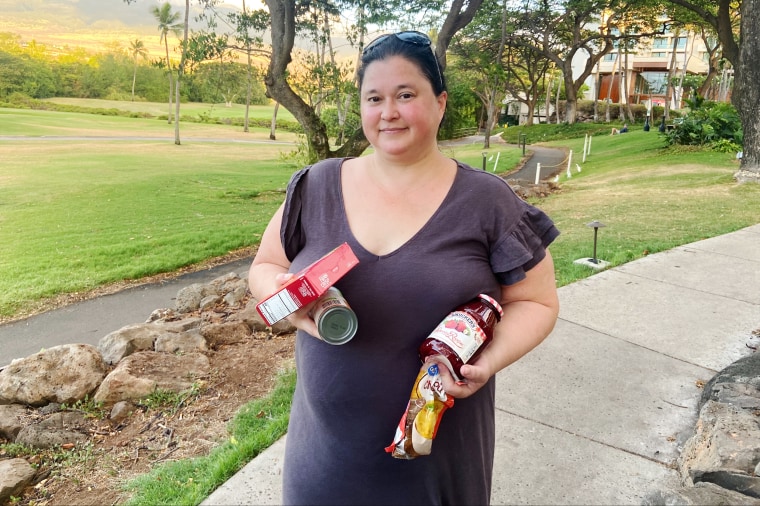 Sonja Aursland, 47, a bartender who was renting a new apartment that burned down, is considering starting a new life on the mainland.Deon J. Hampton / NBC News
Angela Filikitonga, 36, who works in an auto parts store and lost the only house she has ever lived in, which was passed down to her from her grandmother, said she welcomes the promised reprieve, but it doesn't end her worries.
"It won't take my mind off of things," said Filikitonga, who will never forget how she ran from a large cloud of burning black smoke when fire devoured her home. 
Angelis Cordova, 26, a former Marine based on Oahu, who was applying for Red Cross assistance Friday, said he had grown tired of sleeping on friends' couches and would rather stay in a hotel.
"I waited to apply because there were others who were more in need," he said.
Currently unemployed, Cordova said he needed to save a small amount of money to return to his native San Diego and take a stab at music school.
Brock reported from Wailea and Hampton from Lahaina, Hawaii.