Lizzo's current backup dancers have expressed support for the singer, thanking her for "shattering limitations and kicking in the door way" for them as the artist faces a lawsuit from former dancers accusing her of sexual harassment and fat-shaming.
In an Instagram post, Lizzo's dance troupe, known as the "Big Grrrls," said they have "had the time of our lives" on "The Special Tour," which ended in July.
"We have been so honored to share the stage with such amazing talent. The commitment to character and culture taking precedence over every movement and moment has been one of the Greatest lessons and Blessings that we could possibly ask for," the post said.
"THANK YOU to Lizzo for shattering limitations and kicking in the door way for the Big Grrrl & Big Boiii Dancers to do what we love! You have created a platform where we have been able to parallel our Passion with a purpose!" it continued.
The statement comes just over two weeks after Lizzo, whose real name is Melissa Viviane Jefferson, was hit with a lawsuit from former dancers accusing her of sexual harassment and creating a hostile work environment, allegations the singer denies. NBC News was first to report on the lawsuit.
Among the allegations were that the singer pressured one of them to touch a nude performer at an Amsterdam club and subjected the group to an "excruciating" audition after making false accusations that they were drinking on the job.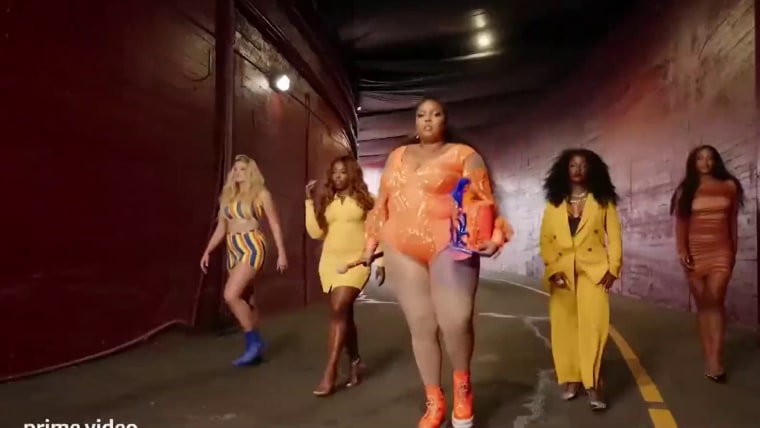 Lizzo denies allegations in former dancers' lawsuit
Lizzo dismissed the allegations as false, calling the claims made by three former dancers "unbelievable" and "outrageous."
"These last few days have been gut wrenchingly difficult and overwhelmingly disappointing," the 35-year-old singer shared on Instagram. "My work ethic, morals and respectfulness have been questioned. My character has been criticized," she said.
"Usually I choose not to respond to false allegations but these are as unbelievable as they sound and too outrageous to not be addressed," Lizzo said in the statement, calling the allegations "sensationalized stories."
Lizzo stated that in creating her music and performances, "sometimes I have to make hard decisions but it's never my intention to make anyone feel uncomfortable or like they aren't valued as an important part of the team."
Ron Zambrano, the attorney representing the former dancers who filed the lawsuit, responded in a statement Friday saying it was "understandable that current employees would gush about her. They want to keep their jobs and maintain access to her global celebrity. But the comments change nothing about the allegations in the lawsuit."
Zambrano said his firm has heard from at least 10 former Lizzo employees who've come forward with similar stories of abuse and harassment about the singer since the suit was filed Aug. 1.
"Some of them will certainly be actionable," he said. "Lizzo's job now is to try to do everything she can to limit the damage to her brand and save her career. Our job is to vigorously litigate this case on behalf of the plaintiffs based on the facts and we're confident the truth will prevail over the spin."
Representatives for Lizzo declined further comment on the social media post. They did not immediately respond to Zambrano's comments.